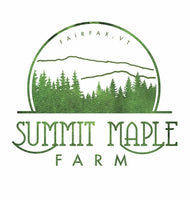 Organic Vermont Maple Syrup
Here at Summit Maple Farm, we are focused and committed to sustainability. We consider ourselves stewards of our 50-acre family farm, located in the western foothills of the Green Mountains in Fairfax, VT. On our farm we produce Certified Organic Vermont Maple Syrup and Maple Confections. The sugarbush, where we harvest our sap, is Certified Bird Friendly by Audubon Vermont.  We have solar panels on our sugarhouse that cover the electrical demand producing our maple syrups puts on the grid. The sap we harvest is boiled over a traditional wood fired arch. The firewood used is sourced here on the farm utilizing low impact logging methods.  
Shop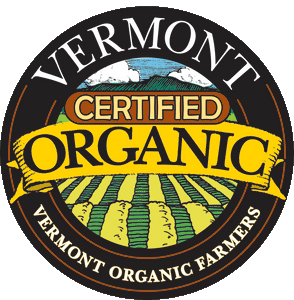 Organic Certified by VOF
Our Maple Syrup and candy is certified organic by Vermont Organic Farmers. This is a thorough process that not only ensures that our Syrup is pure but also ensures we follow ethical forestry management practices in our sugarbush.
Learn More

Homegrown By Heroes

We (Mike and Jess) are both active-duty service members and have been serving since the early 2000s. Our experiences in the military have prepared us for farming. Hard work and dedication are the backbone of our operation.  Providing our customers with the best service
and products is our goal for every customer experience.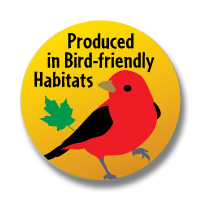 Bird Friendly Habitat Certified
Our Sugarbush is certified by Audobon Vermont to be Bird Friendly habitat. We manage our forest for a biologically and structurally diverse sugarbush which offers great places for birds to forage, find cover, and raise their young.


Learn more
Best Ever Flavor!

This is the best maple syrup I've ever tasted. Deep, rich amber color! Pungent bouquet and flavor lingering after the swallow!

Handy compact quarts fitting snugly in my fridge door, easy to snag with a finger and sparingly add to tea or coffee - wherever robust maple flavor boosts sweetness up a few flights.

In salad dressing recipes, as a drizzled topping on plain yogurt, vanilla or coffee ice cream - oh, please, NOT just on flapjacks!

This maple syrup invites experimentation and inclusion in new culinary creations. I'm HOOKED!

Anna Z
This was the fastest order I have ever had. Customer service was awesome with a fast response (I had a question). The flavor of the maple candy is AMAZING! The quality is outstanding. We got a maple syrup too for my mother in law. Great company!

Antonella T.
This is the best maple syrup I have ever tasted - hands down. It has more flavor, robust thickness, and fabulous consistency. And so much depth to the flavor! This is now my go-to for maple syrup. And the owners seem so nice! they even messaged to check up on if it had arrived! How fabulous!

Amanda J.
Location
Our Sugarhouse
53 Spafford Road
Fairfax, Vermont 05454
Open Seasonally (call or email)
802-373-7656
Summitmaplefarm@gmail.com